The Iowa Ceramic Center and Glass Studio is a unique place to celebrate!
Pottery Classes and Workshops
Girls Night Out! Just want to get some friends together? Make a night out of it and grab some dinner in the NewBo district, then head to the center for a night creating a pot or a glass platter. You can even bring in some wine! This is a great way to have some fun with friends and create something special. 
Holiday Events With holiday-themed classes in glass and clay, spending time with friends or family with us creating holiday works of art will make memories that last a lifetime. 
Family Events We can put together an event that is relevant to the time of year, holiday or your specific family. Just tell us what your ideas are and we can make it happen!
Bachelorette/Bachelor Parties Give your bride or groom-to-be a memorable night.
Bridal or Baby Showers Celebrate the parents-to-be with a fun and interactive shower. 
Organize an class
Fill out the form below to tell us what you have in mind.  
For Adult events, we offer season project options. For a pdf printout of the party options, click on the link below for 'ADULTS PARTY PROJECT OPTIONS' BELOW.
After you reserve your date and time, we are all set!  The week of your event we will confirm with you on the number of participants and send you an invoice via email, to pay online, for the full party amount.  This is due 72 hours prior to your event.  
Send out the invites!  You can even bring in food and/or drinks for the party.  If it is a 21 and over party, you may also bring along your beverage of choice. 
Show up!  We will have an instructor for your event to talk your through the project.  

All projects will be created by participants, as well as painted using our special ceramic glazes.  Projects will then be dried and fired in our kilns and coated with a clear glaze to make them shine.  Projects will be available for pickup 3 weeks later.  All projects will measure approximately 4″x4″.  

Enjoy the fun, create art and then enjoy the rest of your evening.  We will even clean up!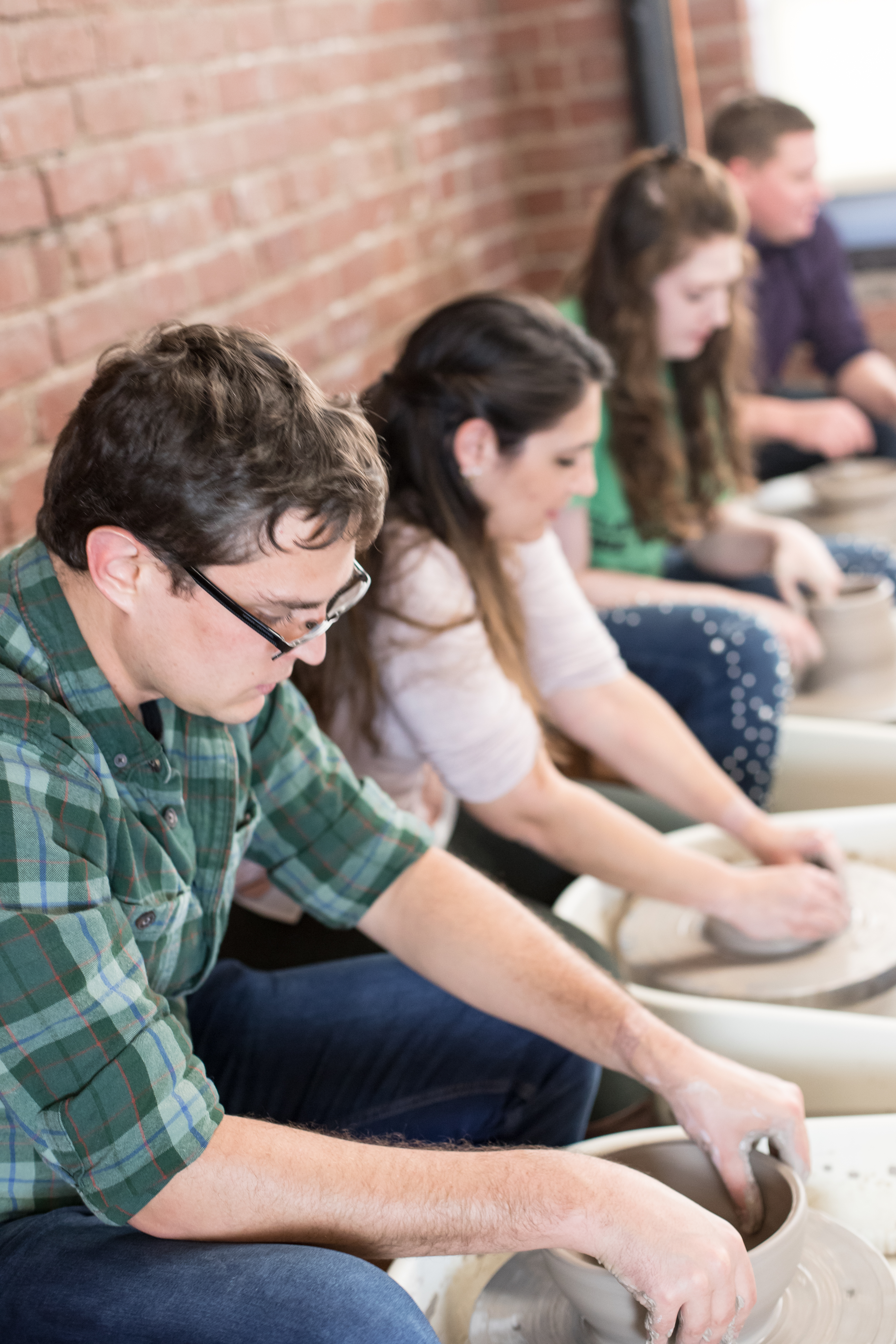 About this class
The cost for a private workshop is as follows for up to 6 people:

Hand Building Project Workshop: $240 (additional $40/person up to 12 people maximum) 1.5 HOURS
Warm Glass Project Workshop: $270 (additional $45/person up to 8 people maximum) 1.5 HOURS
Ceramic Wheel Workshop: $270 (additional $45/person for up to 10 people maximum) 2 HOURS

We provide the materials, fun, personal instructors and the space. You just bring the food and drink (optional). 
We offer seasonal options for party projects. Please check the options above, or click on the printable PDF document below.