The  purpose of the program is to provide emerging ceramic artists with the space, facilities, time, and professional interaction that will further develop their ideas, skills, abilities, and focus as ceramic artists.
Application Dates
August 2023 to August 2024:
Application deadline

extended

until  May 17th, 2023
May 2024 to May 2025:
Application deadline April 2nd, 2024
Depending on availability applications will be considered throught the year.  Please submit an inquire email to [email protected] with potential residency dates.
12 hours minimum work each week during regularly scheduled times 

Teaching classes and workshops

Loading, firing, and unloading kilns

Mixing clays and glazes

General studio upkeep

Opening and closing the center
The Resident Artist Program at ICCGS is best suited for emerging artists seeking to gain professional growth through the new experiences of working in a community studio and focused personal studio time outside of an academic environment.
Artists who have completed a BA or BFA  are a best fit for our program.  Artists are expected to be self-motivated and capable of working independently yet cooperatively in a community studio setting while maintaining a strong work/ life balance. 
The Iowa Ceramics Center and Glass Studio can accommodate up to five Resident Artists in Ceramics or Glass. Residencies for a 12 month period of time.  Resident artists should have a BA, BFA or MFA degree in ceramics and a motivation to work within a community.
Resident Artist Will Receive
The Resident Artist Program at ICCGS is a work exchange program. Artist received the following as part of the exchange:
A personal work space (15 ft x 7 ft)

24/7 access to the facilities
Monthly Firing and Clay Stipend
Each Residency culminates in an exhibit in the Chadima Gallery

Free enrollment in all Center workshops and seminars

Access to ceramics professionals in the area for consultation and feedback

Experience teaching a variety of classes at the Center
Some of our guest artists include:
Mel Andringa 

Susannah Biondo-Gemmell

Margaret Bohls

Linda Christianson

Bede Clarke

David Crane

Israel Davis

Chotsani Dean

Thaddeus Erdahl

Stuart Gair

Andy Gemmell

Gerit Grimm

Al Holen

Clary Illian 

Matt Kelleher

Gail Kendall
Simon Levin

Jeff Oestreich
Tim Pfiffner
Donovan Palmquist
Pete Pinnell
Joseph Pintz

Coleen Riley

Jennifer Rogers

Brad Schwieger

Amy Smith

Steve Maxson 

Nicholas Meyer 

Tashiaki Mori

Janis Mars Wunderlich

Shumpei Yamaki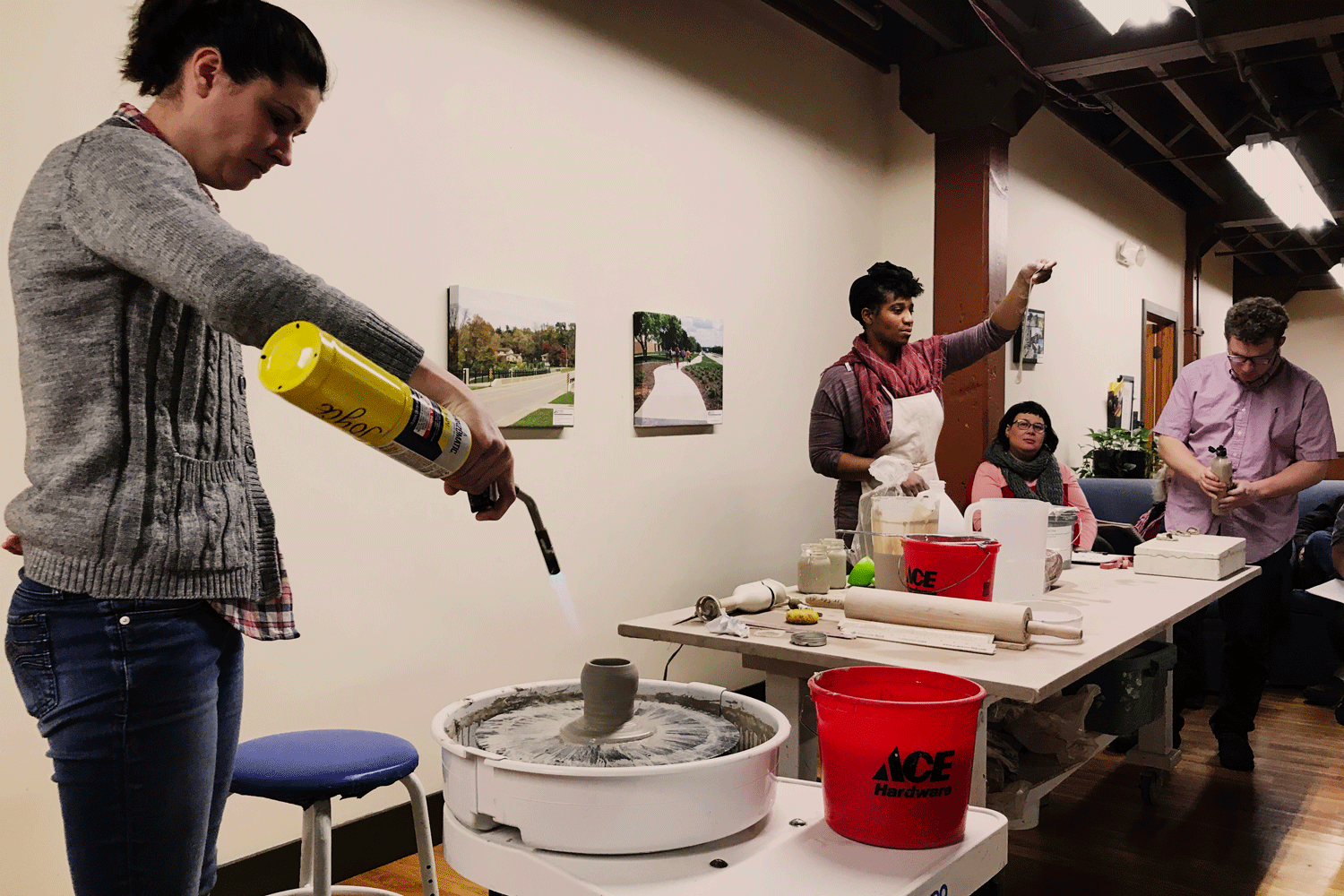 Sell Work in the Chadima Gallery
We have an adjoining 800 sq. ft. gallery which houses exhibitions throughout the year, primarily featuring ceramic and glass artists. Each Resident Artist will have a gallery exhibition toward the end of their residency, and may also have the opportunity to curate other shows. We also market and sell work through various events held at the Iowa Ceramics Center and Glass Studio.
The Iowa Ceramics Center and Glass Studio participates in and hosts 3-4 festivals and sales per year, providing students and residents the opportunity to sell their work.
"I really loved it there. It was such a friendly, warm group—kinda felt like a family"