Summer 1-day Workshop: Ice Cream Glass Magnet and Cupcake Garden Stake (7A1FG)
July 22, 2022 @ 9:00 am

-

11:00 am

$25.00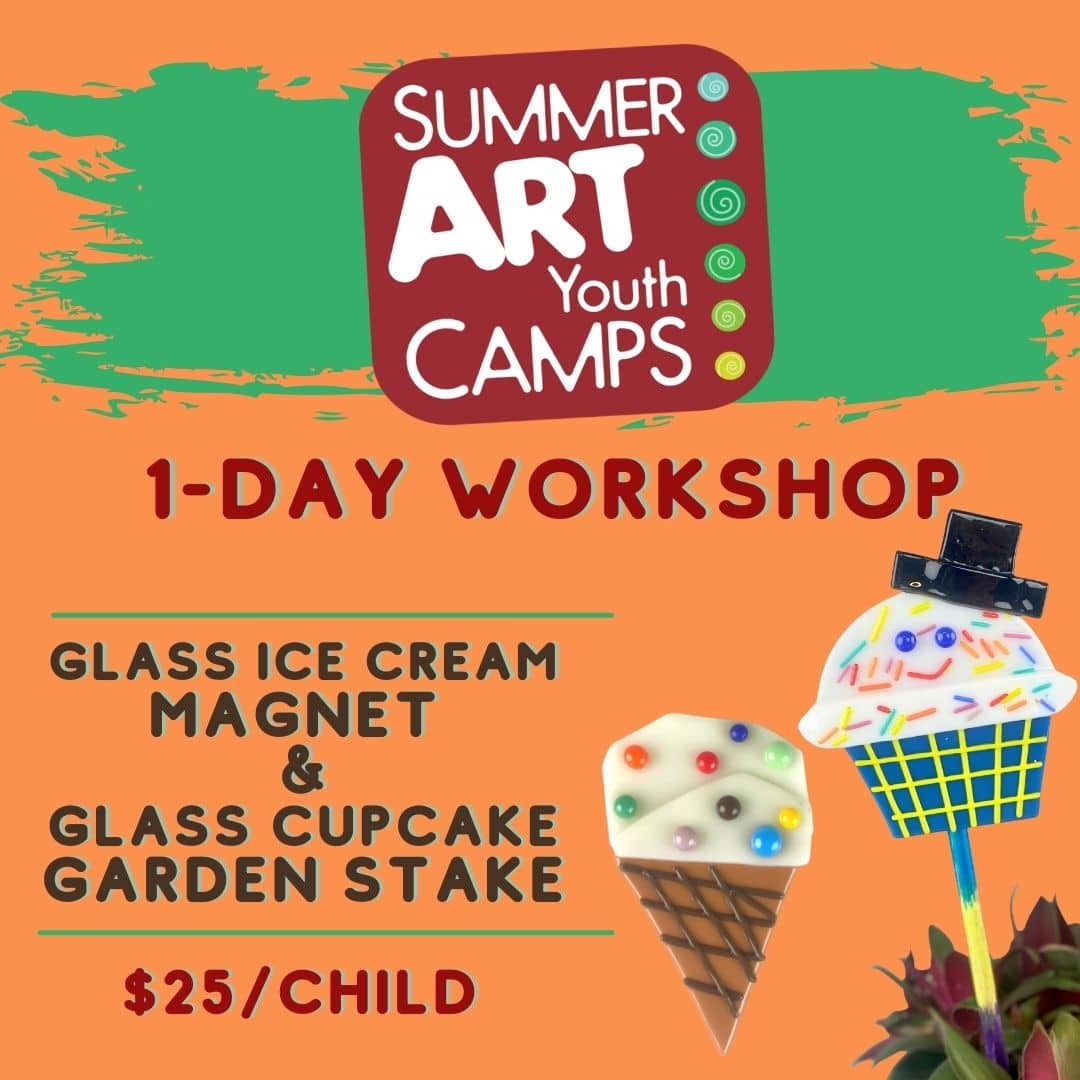 ​1 Day Ceramic Summer Camp Workshops:
Summer Youth Art Camps at ICCGS–for ages 7-14! At ICCGS, we have provided art education for over 10 years through our Summer Camp Programs. For 2022, we are excited to offer a variety of 1-day workshops. In each 2-hour Summer Camp Workshop, campers will create a project using a variety of hand building skills–with help from our Summer Camp Instructors.
Campers will add colors to their creations by painting with special glazes and slips, to make their project truly one of a kind.  Projects will be dried on our shelves, then fired in our kilns for pick up three weeks after the workshop ends.
These camps are a great option for siblings who want to take a class together!
Ice Cream Glass Magnet and Cupcake Glass Garden Stake:
Create an Ice Cream Magnet in this workshop, approximately 2"x2" and a Cupcake Plant Stake, approximately 3"x3".  We will teach you some warm glass techniques including: how to safely cut glass and how to layer glass to create your desired design.  How you decorate your cupcake and ice cream cone is all up to you using small pieces of glass!  We will attach a wooden 'stake' to the back of the cupcake, as well as adding a strong magnet to the back of their cone. All participants must wear closed toed shoes and clothing that covers their legs for glass safety, protective eyewear is provided.  All projects will be fired in our kilns and available for pickup 3 weeks later.
Glass workshops are for ages 8-15. 
Date:  Friday, July 22nd 
Time: 9:00AM -11:00 AM
Tuition: $25/person
Camp Code: 7A1FG
Further Summer Camp Information:
Age Restrictions: We structure our camps by age in order to target our camper's ability levels for each class. When their camp begins, children must be the minimum age requirement for their camp. In order to ensure the success and enjoyment of our Summer Camp classes, please observe the following guidelines when registering. Please check our updated COVID policies located on our website here for any questions regarding our safety procedures.
Drop Off/Pick Up: for all wheel and glass workshops, check-in and check-out will take place at the main entrance.  For all other classes and workshops, check-in and check-out will take place at the entrance to the ICCGS STEAM Workshop (ON THE 11th Avenue SIDE), located next to the main studio inside the Cherry Building. Parents/adults must sign their child in and out of camp every day. Sign-in begins no more than 5 minutes before the start of camp. Please be punctual with all drop-offs and pick-ups, all campers should be picked up within 5 minutes after class ends. Please call the office at 319-365-9644 if you are delayed. Unless previously arranged, campers will not be released until the end of class. For the best creative experience, parents/adults are not allowed in the classroom studio space during class time. Please wait in the  -- but are welcome to wait in the Cherry Building lobby until the end of class.
What to Wear and Bring: Clay may be messy, so make sure your child wears appropriate clothing and closed-toed shoes. Please make sure your child is wearing clothing that can be easily laundered. For glass workshops covered thighs are REQUIRED for safety. Food is prohibited in the studio but water bottles (with secure tops) are allowed. If any changes occur with mask wearing, you can find the most current information on our Policies and Procedure page, as well as posted throughout the studio.  
Cancellation Policy: ICCGS reserves the right to cancel sessions due to the minimum enrollment not being met. In that event, participants will be notified and refunds will be given.
Refunds and Transfers: Parents/Adults may cancel their child's session for a full refund no later than one week (7 days) before the first day of class. A $15 processing fee is required to transfer from one camp to another (if space is available) 7 days prior to the start of camp. No refunds or transfers will be allowed with less than 7 day's notice.
Completed Projects: Student's work will be available for pickup exactly three weeks after the end of their session; we will NOT call or email you when items are ready for pickup. All summer camp projects left in the studio after September 5th will be recycled.
Please note: when you pick up your child's items, be sure to have the camp code with you (i.e. 1LA). The code is indicated on your receipt.  Every child will have their own brown bag labeled with their camp code and first name. Having the camp code with you is necessary to correctly locate your child's items. Before coming in, please check studio hours to ensure we are open.  
Monday-CLOSED
Tuesday-Thursday 10am-8pm
Friday-Sunday 10am-4pm